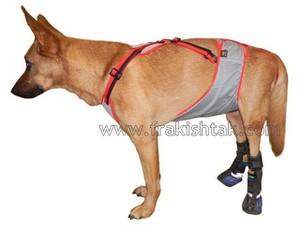 Indicated for dogs males with mild and moderate to severe incontinence. It also can be used for healthy mature hard-to-train dogs with urine marking behavior.
Panties are featured with reusable liner with Velcro .
Liner absorbs urine and prevents leakage. Panties also can be used with disposal liners.
Suitable for all sized dogs.
Materials: knitted cotton fabric, polyether mesh.
---
XS (toy terrier, terrier yorkshersky and other dwarf species) - €30
S (pug, dachshund, poodle and other small breeds) - €31
М (Husky, shar pei and other intermediate rocks) - €37
L (Shepherd, Doberman and other large breeds) - €39



Reusable liner:




All size -

€6





Each next reusable liner with 15% discount



*Price in Euro




Color
Color tone on the photo may be different from the original. It depends on the settings of your monitor.
---
Or download the Order Form

for order later

Download the Order Form

(24.0 KB)